Ads
Cobian Backup
"...If you are looking for a stable and reliable application to safeguarding your data, Cobian Backup will not disappoint you. Give it a try..." - From a Softoxi review.
Update: The new owner is James Sweeney. I retain the rights to my freeware versions up to version 11 (Gravity).
Cobian Backup is a file-backup program that can be used to make automatic backups for your directories and files. Cobian Backup can be run as a service or as a regular application. It can backup to some other location in the same computer, to the network and even to an FTP server. The program supports compression and encryption.
Cobian Backup is freeware and can be used for free even in a commercial environment. Donations to help keeping this site alive are welcome!
Download

Cobian Backup 11 (Gravity)
For Windows XP, 2003, Vista, 2008, Windows 7, Windows 8, Windows 10
Latest version: 11.2.0.582
Older versions

Cobian Backup 10 (Boletus)
For Windows XP, 2003, Vista, 2008, Windows 7
Latest version: 10.1.1.816

Cobian Backup 9 (Amanita)
For Windows NT, 2000, XP, 2003, Vista
Latest version: 9.5.1.212

Cobian Backup 8 (Black Moon)
For Windows NT, 2000, XP, 2003, Vista
Latest version: 8.4.0.202


Cobian Backup 7 (Luz de Luna)
For Windows 95*, 98, ME, NT, 2000, XP, 2003
Latest version: 7.6.0.353

Other resources
Frequently asked questions (FAQ)
Screenshot: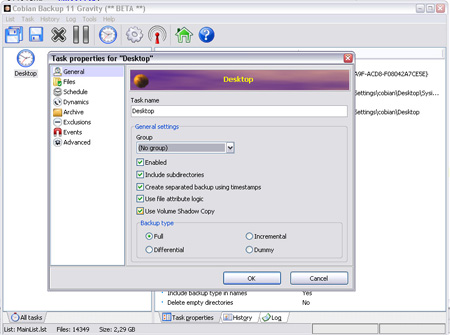 ---